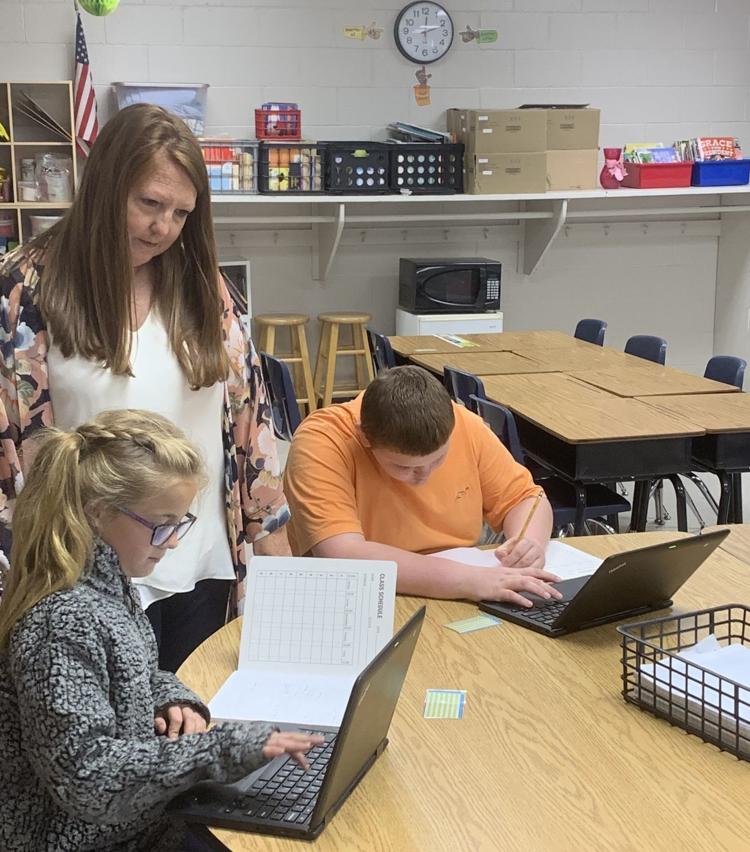 Teacher Amy Dobbs says she tries to help her students see the math in their everyday lives, not just as problems on a page to be solved.
With this in mind, she kicks off every school year with a lesson entitled, "Figure Me Out."
First, she draws a stick person to represent herself and fills a poster with questions about herself for students to "figure out" the answers to.
"The only way the students can figure out the answer to the questions is to solve the math equations that match the questions," Dobbs said. "For example, (they have to) solve the equation '4 divided by 2,' to find the answer to the question, 'How many children do I have?'"
She makes sure to include all levels of equations so that all levels of learners can figure out a few facts about her.
"Of course, some are very basic and others are very tricky," she added. "This lesson gets the students so excited about math. They love trying to solve the equations to learn new things about me. They are so engaged trying to figure out my age, number of children, how many pets, number of states I've traveled to and so forth that they don't even realize they are working, learning, and having fun!"
Once they complete Dobbs' poster, she has them make their own posters with equations about themselves.
"They have the best time creating the equations and trying to come up with interesting facts that their classmates don't already know about them," she said.
One of her favorite things about it is that it seems to extend beyond the classroom with most of the kids going home and involving their parents in the math assignment.
"I love for parents to see that math is all around us and it can be fun," she said.
Once the classroom projects are finished, they all hang their posters in the hallway for other students to see.
"I always see students of all different ages stopping and trying to solve the equations," Dobbs said.
In addition to being a fun activity to start the year off, Dobbs uses the project as an assessment tool to gather data about her students.
"It's truly amazing how much excitement this creates in the first week of school and leads right into my first unit, Numbers and Base Ten," she said.
Dobbs has been teaching math at Ila since 2008.
She started her teaching career as a kindergarten teacher at Oglethorpe County Elementary School, but acknowledges that being on staff at Ila Elementary was always the goal and she has no plans to move anywhere else.
"This was my dream job, to be at Ila," she said. "I plan to stay here forever."
Dobbs is also excited that she has a niece who'll be in kindergarten at Ila next year.
"I'll get to see her go through the grades here," she said, smiling.
She's been there long enough that she says one of the highlights of the year is having that year's high school graduates who attended Ila Elementary come visit the school and talk with students at the end of the year.
"It's so much fun to see their growth, especially since I haven't seen some of them since they were my students," she said. "It's exciting to see who they are now and hear their plans for college, technical school or careers.
And of course, she especially loves to hear when they tell her she helped make math fun for them.
As the leadership representative for her grade level (fourth), it is her responsibility to plan field trips and invite visitors to come and speak to the class about careers.
Dobbs said the field trips are a way for students to continue their learning experiences away from the regular school environment.
For the past couple of years, she's used the funding provided by the school's Parent-Teacher Organization (PTO) and school fundraisers for students to go see a play at The Seney-Stovall Chapel in Athens.
"One of my favorite details about the chapel is that it is octagonal," she said. "It is always important to point out math in our everyday lives."
After the play, they all go to The Varsity for lunch.
Experiences like this she uses later to create math problems for the kids to solve in class.
"It's so much easier for students to solve math problems when they have a real life connection to the word problem," she said. We can write and solve lots of word problems using the number of students, hot dogs, hamburgers, cheeseburgers, fries and all the costs involved."
She also finds ways to bring out-of-the classroom experiences to her students at school. One of these ways is by having visitors come to share their own personal stories about their education and work experiences her students.
"(For example), we had Dr. Andy Felt, science teacher at Madison County High School, come and share how physical science is used in the real world," Dobbs said. "My favorite part was when he told the kids that you cannot make these experiments work without the use of math equations."
A highlight was when she had an Atlanta meteorologist from Fox 5 Atlanta bring the station's Storm Chaser truck to Ila.
The students were able to hear stories of weather and see the Storm Chaser. The meteorologist told the students how important it is for them to learn about math, science and computers especially if interested in meteorology.
The biggest change since she began teaching school is, by far, in the area of technology. And she admits that she has had to learn to embrace the changes as they come and challenge herself to try new things.
She says that will be her message if she's selected to represent the state as "Teacher of the Year"; embrace change and try something new.
"I have to admit that learning new tricks is hard especially when you've always done it 'that way,'" she said.
Dobbs said it was difficult for her to incorporate Google Classroom into her own classroom but when she finally did, and with the help of a colleague, made the leap.
She said she was surprised at how excited her students were about the changes and how they talked about it constantly.
"I have to say this was life changing for me as a teacher," Dobb said. "It took me some extra hours at first to learn the process, but within no time at all I had my weekends back to enjoy time with my family and friends. When I walked out the door of the school on Friday, all quizzes were graded and my students received instant feedback. They no longer had to wait on me to grade the quiz and then return it to them in the weekly folder. I had a graph with the number of students that missed each problem. This was definitely a win-win situation for the students and me. I sent letters home to parents informing them that they would no longer have to wait for the weekly folder to know how their child performed on the weekly quiz. I was thinking I would probably have some parents that would be upset about not receiving the paper copy of the quiz and it would be too much trouble to log in to see the grade and which problems their child needed to work on, but believe it or not I didn't get any negative feedback at all."
So her message is that though change is hard and technology intimidating, you have to be willing to give new ideas a try.
Dobbs lives in the Fort Lamar community in Madison County. She is married to John Dobbs and they have two children: Jared, 19, who is a student at the University of Georgia and Reagan, 15, who is a sophomore at Madison County High School.
Dobbs graduated from The University of Georgia with her bachelor's degree in finance and worked as a retail store manager. Later she attended Piedmont College and earned her master's in early childhood education and her educational specialist in instruction and curriculum.
Dobbs is also gifted certified, serves on the school leadership team and works extended-day duties. She most recently completed a course with RESA (Regional Educational Service Agency) for Cognitively Guided Instruction (CGI) which is a student-centered approach to teaching math.