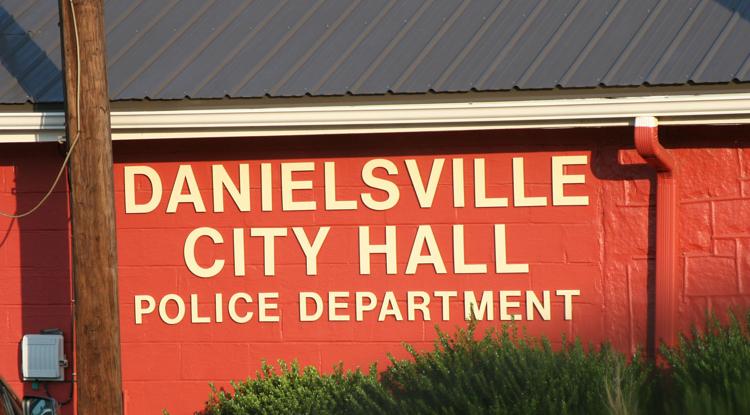 Danielsville officials approved a significant hike in water and sewer rates Monday, citing the need to boost rates to qualify for grant funding.
"An average residential household can expect to see a monthly increase of approximately $5 in water fees and $7 in sewer fees," wrote Danielsville City Clerk Susan Payne in a press release about the rate changes.
Meanwhile, rates for the county school system and government offices will see a hefty increase. The City of Danielsville provides water and sewer services to schools in Danielsville as well as the county government, including some facilities within and outside of the town.
The school system's water/sewer bill was $2,435 for December. Under the new rates, that same bill will go up to $6,042, a 148-percent increase. The county government, which was paying out-of-city water rates to Danielsville for some services, paid $7,321.24 for water/sewer services in December. Under the new rates, that payment would be $10,392, a 42-percent increase.
City officials said the United States Department of Agriculture (USDA) turned the city down for water and sewer grants, because the town wasn't charging enough for its services.
"We tried applying for a USDA loan for improvements only to be told 'no,' that the city wasn't charging enough for water and sewer services," said Danielsville Mayor Michael Wideman before the council's unanimous vote to approve the increases Monday.
City officials said the rates have been lower than the state average and surrounding areas. And officials said they don't want to see city residents bearing the burden of school and county infrastructure needs.
"The City of Danielsville, being county seat for Madison County, has long struggled when it comes to balancing the needs of its citizens, growing economic development and servicing the needs of the county government and public education facilities serviced by its infrastructure," wrote Payne. "The corporate limits of Danielsville are comprised of approximately 46 percent of exempt/non-taxable real property — that's almost half. While it is strategic to locate government facilities and educational institutions as such, the burden of infrastructure can't be solely placed on the residential citizens of Danielsville."
Payne said that city officials reached out to county and school officials "for possible solutions to reducing debt obligations and to seek additional funding from the 2020 SPLOST (Special Purpose Local Option Sales Tax) agreement, which failed after several months of discussion."
Payne said the new rates "allow for a more accurate reflection of the use and availability of services to these types of facilities."
"By using this type of rate structure, the residential citizens are not forced to carry the burden of servicing the institutional facilities served by Danielsville's infrastructure," she said. "Every user will see an increase on their bill; however, the average residential citizen will see the least increase and the institutional facilities will see the larger increase."
Payne said the city has made infrastructure improvements in recent years and plans to make more.
"By way of SPLOST, the City of Danielsville has made improvements in both the water and sewer infrastructure over the past several years," wrote Payne. "With the new Hwy. 29/Hwy. 98 roundabout, new, larger-sized water lines were installed, which provided for better fire protection, and water pressure, in general, for our citizens along that corridor. The city has also been able to make its first step in improvement to its wastewater pond by installing a new diffused air system just this past November. The new diffused air system is showing improvements in the wastewater pond, but the city has a way to go in order to continue growth within its city limits."
Madison County School Superintendent Michael Williams and county commission chairman John Scarborough were not pleased with the new rates.
"This is the first I have seen of water rate hikes," said Williams. "I knew there had been some discussion about the possibility, but I have not been notified that a 148-percent increase would be voted on by the council. A 148-percent increase is excessive! The school system will go from paying $25,000 a year in water to $60,000 per year (10 months). That is excessive! We do not get charged that much for water at our other schools. I hope to speak with the mayor and council soon and hope they reconsider these rates."
Scarborough echoed Williams' sentiments.
"I hope to speak with the mayor and city council as well," he said. "I would like to know how this rate was computed. We are two weeks into our fiscal year and this certainly was not budgeted for."
OTHER BUSINESS
In other business Jan. 13, the city approved its 2020 budget Monday. Water expenses are projected at $292,505 and sewer expenses are anticipated at $231,295. Water revenues are projected at $324,200. Sewer revenues are anticipated at $197,420.
The council approved a zoning request by Jay Pridgen to rezone a five-acre tract in Sherwood Subdivision from agriculture to residential. Pridgen explained that he has remodeled two mobile homes on the property, but that he's probably going to remove a third mobile home that is in disrepair. He said the rezoning will give him the option of placing another home on the lot without violating current zoning regulations.
The police department responded to 129 calls in December, including five accidents and two assault or battery cases. The department issued 24 citations and 14 written and verbal warnings. Projected fines for December were $4,489. The department collected $1,106 in fines and fees from outstanding city probation cases.
The city council approved the following city appointments for 2020: Rushton and Co., city auditors; Robert Sneed, city judge; Bubba Samuels, city attorney; B.G. Turnipseed Engineering, city engineer; Susan Payne, city clerk; Jonathan Burnette, police chief; Daniel Turpin, public works supervisor; Moore Vault, grave digger; Madison County Elections, election superintendent; Joseph Federico, mayor pro-tem; and Kayla Ballew, IT consultant.