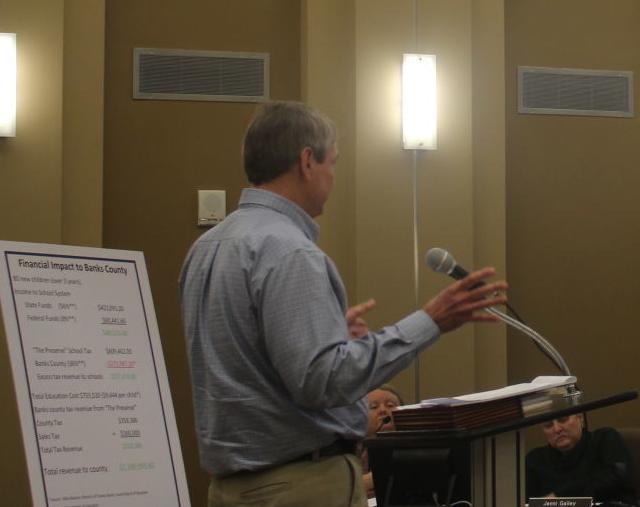 A rezoning request to locate a 360-unit apartment complex at Banks Crossing, on 42 acres near the industrial park, was unanimously denied Tuesday night by the Banks County Board of Commissioners.
Commissioner Sammy Reece made the motion to deny the request to rezone the property from C2 (general commercial) to R2 (multi-family housing). Commissioner Charles Turk seconded the motion. BOC chairman Jimmy Hooper and commissioners David Duckett and Danny Maxwell also voted to deny the motion.
The Banks County Planning Commission had recommended that the rezoning be denied.
Prior to the vote, six Banks County residents spoke in favor of the request being denied. Among their reasons were the impact on the school system with the additional children the apartment complex would bring to the county and the increased traffic at Banks Crossing.
"Traffic at Banks Crossing is already a disaster," Chris Ausburn said. "Banks County is not ready for this development. It would be an explosion. I encourage you to say 'no.'"
Bo Garrison, who served 24 years on the Banks County Board of Education, said the apartment complex would be "devastating to the school system."
"We are also not ready for it infrastructure-wise," he said.
Jack Banks questioned whether the apartment complex would lead Banks County to being a "bedroom community for the City of Commerce."
He also suggested a moratorium on apartments developments until leaders see the impact of one that was approved earlier.
Mark Walton spoke on behalf of Green River Builders and presented five people who spoke on the need of these type of apartments in Banks County. Walton said the $42 million project would be developed in three phases and would include 36 one-bedroom apartments, 308 two-bedroom apartments and 16 three-bedroom apartments.