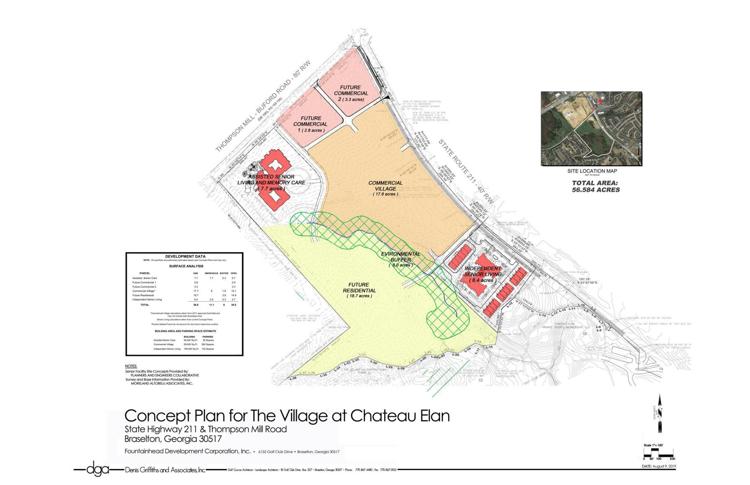 Braselton leaders gave the go-ahead for a senior living development at its October meeting.
The Braselton Town Council approved a request from Fountainhead Residential Development, LLC, for a master plan amendment on a planned unit development at the corner of Thompson Mill Rd. and Hwy. 211. Developers plan senior independent living, assisted living and memory care uses on a portion of the 56.6-acre property.
According to the application, the assisted living and memory care project will include a 100-unit building while the independent living community includes 118 units (100 units within one building along with 18 cottages). Various amenities are also planned.
Those developments will only take up a portion of the 56.6-acre property. Commercial and residential projects are still planned within the development.
COUNCIL WANTS TO KEEP LOCAL CONTROL OF BUILDING STANDARDS
In other action, Braselton leaders approved a resolution showing their support of locally-controlled residential building standards.
Town manager Jennifer Scott described a bill that was introduced in the last Georgia legislative session which would restrict local governments from having laws and zoning conditions on building materials, size of homes and number of bedrooms in residential units.
Scott added the bill did not pass in the last session, but it's still alive.
Since it was introduced, the Georgia Municipal Association (GMA) and Association County Commissioners of Georgia (ACCG) put together the resolution to show legislators that governments want to maintain local control of residential dwellings.
Braselton council member Hardy Johnson stressed local control of building standards is critical.
"It's critical that we locally control our design standards and not allow Atlanta to be making these decisions for us," he said.
OTHER BUSINESS
Also at its meeting, the council approved:
•two special event alcoholic beverage licenses for Chris Senden for Vineyard Fest and Vincent Price for the Jackson County Area Chamber business after-hours event at the Braselton Fine Bakery.
•an alcoholic beverage license request from new license holder Rahila Godil for BP Food Mart at 2075 Hwy. 211.
•amending the Braselton Urban Redevelopment Program to include the town's planned civic center.
•its stormwater utility ordinance.
•final adoption of its 2020-24 capital improvement element and short-term work program.
•a bid award to install pedestrian lights at Friendship Rd. and Spout Springs Rd. to R.J. Haynie and Associates for $99,997. The project will be funded by Hall County special purpose local option sales tax funds.
The council also held a 20-minute closed session on pending or potential litigation with no action following.