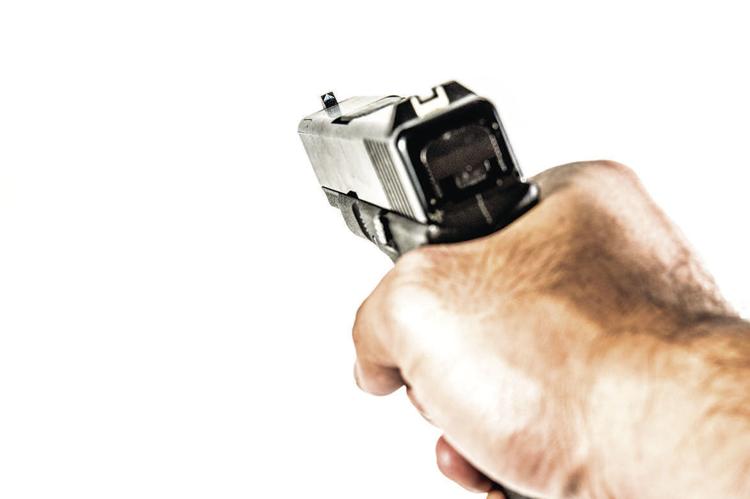 County commissioners are considering a "Second Amendment Sanctuary" county resolution.
If passed, the board would give the sheriff the authority to determine the Constitutionality of all gun laws and whether such laws should be enforced in Madison County. That resolution was considered Monday and will be back before the commissioners March 30.
Sheriff Michael Moore said he's not ever going to enforce any law that requires him to go out and confiscate guns.
"If I got to come and take y'alls guns, I'm leaving the badge on the table," said Moore. "I'm going home with my family."
Planning and zoning board chairman Lamar Hughston spoke in favor of the resolution, saying that he has been gathering information about making Madison County a sanctuary county and then saw that the matter was on the BOC's March 2 meeting agenda.
"It (the sanctuary movement) continues to grow as people start to clamp down on our Second Amendment rights that were guaranteed by the Constitution," said Hughston. "…I ask that you seriously consider this."
Polly Walls Penson, a retired police officer, also spoke in favor of the resolution.
"To take away our Second Amendment rights is something I'm totally against. I want our county to be in the red zone we have for the Second Amendment. We're surrounded by counties that's already passed this amendment. And we need to have Madison County as a Second Amendment county. The counties that's not wanting to adopt this, they're going to be saying hey, whenever it's time and they're in trouble, they're going to be calling someone. They're going to wish they had somebody to call to come and defend them. I'm defending my property and what I have with everything that I've got. And I will defend it."
She referenced a church shooting in Texas to highlight the need to carry firearms in church.
"They're in church to have a service and worship God; they're not thinking they're going to get shot and killed at that time," said Penson. "We need to have it so the Second Amendment is for our county and for the people in this county."
Chip Chandler of Carlton said he carries a firearm every day in the woods and supports the Second Amendment.
"But at some point, I don't want gun owners to work against themselves," he said. "I support your right to carry a pistol, but if everybody starts walking around with one in Kroger, it's not really the best thing for gun owners to do, because it enflames people who are anti-gun."
Chandler gave an anecdote about one gun that passed through a family and killed four people over several years.
"I want gun owners to step up and be responsible for guns," said Chandler. "…I'm not sure this resolution is exactly what you want."
Maggie Sjoberg of Ila said she is perplexed by the resolution.
"I'm not sure I understand what's going on," she said. "I'm not sure why this county thinks it needs this resolution. Do you think the federal government is coming for your guns? What exactly does the resolution say and explain to me why it's necessary."
County attorney Mike Pruett was asked to give an explanation of the resolution which is similar to others passed elsewhere and not a resolution drafted by Pruett.
"All I know is what I read in the resolution," said Pruett. "I think it's saying you would encourage the sheriff not to enforce any state laws that were passed regarding guns, firearms if he individually felt it conflicted with the Second Amendment."
Pruett later added that the resolution delegates to the sheriff to "decide whether any law or future law violates the Constitution."
"The structure of the Constitution says that's a judicial function, not an executive function," he said.
Pruett said a sheriff in Arizona got the idea of Second Amendment sanctuaries from the immigration sanctuary cities, where cities said they wouldn't cooperate with the federal government in enforcing immigration laws.
"There have been four district court cases on that now," said Pruett. "Three of them have said that the administration could not withhold funding. One last week said that Trump can withhold funding from those sanctuary cities. I assume the same dynamic would be in place if a county refused to cooperate with a state law. There would be the question, 'Could a state withhold funding?'As a lawyer, I would say whatever the cause might be and what political stripe might agree with it, the structure of the Constitution might be more important than individual causes."
Commissioner Derek Doster said the resolution presents a truly difficult personal dilemma.
"I probably have not been as conflicted in an idea in a long time," said Doster. "I will die tonight defending my right, your right, my family's right. It's my core belief that the Second Amendment is there for a reason. But I also have an undying understanding that the notion of our rule of law can come or go with the whim of a particular person or a particular body. History has taught us, people have fought for those things and people have died for those rights. I honestly don't know, because I support the notion of those Amendments, every one of them, but for me, to give credence to this act of defiance almost lends credence to the ones I don't agree with, like the sanctuary cities. So, this goes to the core of my life. And I don't know which way to make another comment."
Commission chairman John Scarborough said he doesn't think the resolution interferes with certain restrictions, such as convicted felons owning guns.
"I don't think this supersedes that," he said. "I could be wrong."
Commissioner Tripp Strickland said he feels the resolution is simply a declaration of intent if the culture swings too wildly to the left.
"I just look at it as a statement of where we stand if it ever gets to that point," said Strickland.
Commissioner Lee Allen said the state legislature has loosened gun restrictions each year.
"I don't know a single person who doesn't care about Second Amendment rights," said Allen. "The First Amendment and Second Amendment in my opinion help us protect all the other ones."
Allen cited court cases holding up the Second Amendment.
"It goes past the militia and into individual rights," he said.
But Allen said he thinks fear is behind the movement.
"I believe fear has caused people to take action on things that maybe aren't something to be fearful of," he said. "Fear in my mind is totally useless…Fear is being used a little bit here…But beyond that, if District 1 wants it or they don't want it, I'll be voting that direction. So in the next 28 days, I'll be talking to people and I know these guys up here will be doing the same thing and make sure we get the will of the people…As of right now, I've had two people call me in support and 14 call or email me against it."
Strickland mentioned gun legislation in Virginia.
"Everybody is attuned to what's going on in Virginia right now," he said. "Look at what they're trying to do there and remember we were not just a breath away from a Governor that espoused the same rhetoric."
Allen responded to Strickland.
"Do you know what the Virginia laws are?" Allen asked Strickland. "You kind of need to know them to know what the background was."
Allen said the Virginia legislation included a "red-flag law" for anyone who would be a burden to themselves or dangerous to themselves or others.
"The courts would decided that as usual," said Allen. "Another one was, public places such as government complexes and parks, they would have their right to say individually, I don't want guns on our park. We don't want guns on our government complex. And the other one was, you couldn't buy more than one pistol a month. So you could only have 12 pistols a year. I've got some collector buddies who don't buy 12 guns a year."
Allen said fear overshadows knowledge on the subject.
"If you don't know what the laws are, you shouldn't really say that you're scared of them and think it's going to go a certain way," he said. "You need to know what people are passing. And that's what was going on in Virginia. Georgia is not that type of place right now."
"Yet," said Strickland.
"It could, but this is a fear thing," said Allen. "What are you afraid of?"
Strickland responded that there are "one million more people inside the loop of 285 than there are in the entire state of South Carolina."
Allen said the resolution "will not stop anyone from coming here and living in this state."
"It will not stop people from moving in to Madison County," he added.
Kirk said "you never know when the right situation occurs and somebody does propose laws."
"As Tripp states, sometimes the difference in how things are looked at inside the 285 loop is quite different than how folks look at it in Madison County," said Kirk. "I'm a defender of Second Amendment rights. In looking at what's written here, it is sort of a 'what if?' Now, whether or not it's needed at this point. It's probably not needed right now today. But in the future, it might be something we would want."
Strickland said people contend "militia" wasn't what the founders meant in the Second Amendment.
"Bullcrap, that's what they meant," he said. "They just came out from under oppression. They just had their houses taken, their land burned, their cattle absconded. Yeah, they meant it. They meant that you should be able to take up arms anytime a tyrant comes against your country. And it can happen in the blink of an eye. Look at Hitler. Did those people see that coming? He started doing little things. That's not fear-mongering. That's the dadgum truth. That's history."
"Hitler is true; I will agree with you on that, Tripp," said Allen. "Hitler was real. I'm not a Hitler denier."
"You're not a Republican either," responded Strickland.
"I'm not. I'm not a Republican," said Allen. "I left the Republican Party. Everybody needs to know that."
Kirk said the Second Amendment was put in place so that rule of America by a foreign leader "never happens again, because the people will be armed."
The debate over guns took place on Monday as Steve Waller of the Madison County Sheriff's Office stood with his firearm, listening to the heated talk through a speaker at the government complex entrance, where he required visitors without a government badge to go through a metal detector to make sure they weren't armed with a gun as they headed to the meeting.
WHAT THE RESOLUTION SAYS:
Here are some key stipulations under consideration:
•"Whereas, U.S. Supreme Court has affirmed that the federal government cannot compel state law enforcement officers to enforce federal laws. (Prinz vs. United States 1997)."
•"Whereas all federal acts, laws, orders, rules or regulations regarding firearms, firearms accessories and ammunition are a violation of the Second Amendment…"
•"It is the desire of the Madison County Board of Commissioners to declare its support of the Second Amendment to the United States Constitution and to the provisions of the Constitution of the State of Georgia that protects Madison County citizens' individual inalienable rights to keep and bear arms."
•"Be it further resolved that the Madison County Board of Commissioners affirms its support for the Madison County Sheriff in the exercise of his sound discretion to not enforce against any citizen an unconstitutional firearms law."
•"Be it further resolved that no agent, employee or official of Madison County or any corporation providing services to Madison County, shall provide material support or participate in any way with the implementation of federal acts, orders, rules, laws or regulations in violation of the Second Amendment to the United States Constitution."
•"Be it further resolved that the Madison County Board of Commissioners will not authorize or appropriate funds, resources, employees, agencies, contractors, buildings, detention centers or offices for the purpose of enforcing or assisting in the enforcement of any element of any acts, laws, orders, mandates, rules or regulations that infringe on the right by the people to keep and bear arms."
OTHER BUSINESS
Kirk said Tim Seymour withdrew his name from consideration for a nomination to the planning commission. Kirk added that he is seeking recommendations on who in District 4 should serve on the zoning board. Chandler spoke on the matter and said he doesn't think a developer should serve on the planning commission, since it would be difficult for a developer to be impartial on matters involving other developers. Kirk said he has an interest in having someone who understands the ins and outs of residential construction. "I see where Chip is coming from as far as making sure that person can deal with it and not be biased, but I think we need someone with some experience with that," said Kirk.
Andrew Lane's requested rezoning of 34.48 acres on Collins Dudley Road from A-2 to A-1 for poultry houses was postponed, because neighboring property owners were not presented with a timely notification of the proposal. The matter will go back to the zoning board.
Scarborough said Planter Gunnell Road is back in service after being damaged by recent rains. He said the road department is working between rain events to repair numerous roads as quickly as possible.