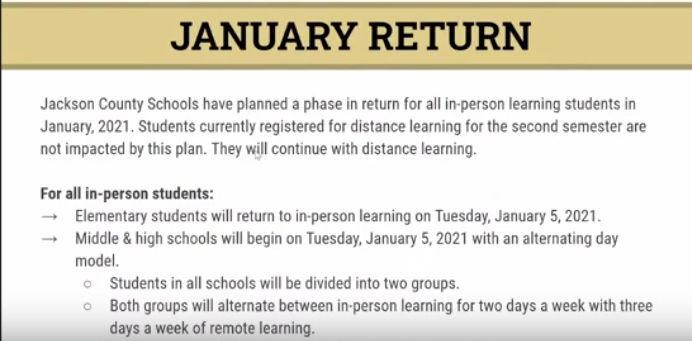 The Jackson County School System is making plans to "phase-in" middle and high school students to in-person classes following the Christmas break.
During a meeting of the Jackson County Board of Education last week, school leaders outlined plans for a phased-in return to class due to an anticipated high rate of Covid spread during the holidays.
The plan revolves around alternating in-person learning days with middle and high school students with two days a week being in-person and three days a week attending class by remote learning.
How long the alternating plan would be in effect will depend on updated data about the virus' spread during January.
The large December uptick in overall community spread of Covid led the school system to stop in-person classes last week and move to remote learning until the holiday break begins on Dec. 21.
Superintendent April Howard said the virus had hit a large number of teachers, substitutes, bus drivers and other school personnel making in-person classes almost impossible.
"There's been a significant increase in the spread rate and the unfortunate thing is, the spread rate has hit our adults in our buildings more than students," she said.
Howard said one of the problems is a declining lack of compliance with the wearing of masks by middle and high school students. While the system doesn't mandate mask-wearing at this point, Howard said school leaders are "gong to have to tighten-up on students wearing a mask."
She said that based on experience from Halloween and Thanksgiving, school leaders expect the rate of community spread of the virus to be exacerbated during the Christmas break from travel and other kinds of out-of-school holiday contact.
System leaders will evaluate updated Covid data on Dec. 31 to make a final announcement about the phase-in, she said.
THE PLAN
The idea behind the alternating in-person class plan is to lower the number of students in school buildings, Howard said.
Social distancing in crowded school buildings is one issue, she said. As of last week, the system had 770 students out due to quarantine.
"If we don't do this (a phase-in), we will continue to see a large number of students quarantined," Howard said.
She said that elementary schools would return to full in-person classes since the problems there are less dire and because lower-grade students are more compliant with wearing a mask.
But middle school and high school students haven't been as willing to wear masks on a consistent basis, she said.
Howard said she recognized that a mask mandate is a "hot topic," but that given the rate of spread, the community hasn't mitigated the virus very well.
"If we do not require masks of at least all staff and students in our buildings, we're going to jeopardize our ability to stay in-person (classes,)" Howard said.
PARENT PUSHBACK
Several parents commented during the board's virtual meeting that they were concerned about the alternating schedule, saying that their children hadn't done well with remote learning. The impact on students' GPA averages was a major concern.
Howard said she understood the impact of remote learning on families, but that with adults getting sick or under quarantine, it was becoming more difficult to staff in-person learning. 
Howard said parents should continue to work with their children's teachers to address specific problems and that school leaders understand students should not be punished academically over a situation like the virus which they can't control.
She also emphasized the need for middle and high school students to be more compliant with wearing a mask to prevent spreading the virus.