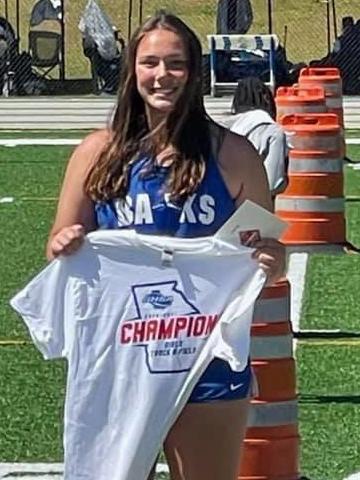 State Champion Shelby Speed set a school record as the Banks County track and field team participated in the GHSA State Championship round this past week.
Speed had a throw of 128-6, which was a school record. She is the first female athlete in the history of Banks County to become the state discus champion. She also finished 11th in the shot put with a put of 31-10.
Other female athletes also put up big run times and numbers, including Makayla Long, who was 12th in the 3200m run with a time and a personal record of 13:18.71.
In the Girls 4x400 team, Hailey Seahorn, Gyna Whisnant, Jenna Reeves and Madison Adams, placed 8th with a time of 4:26.56.
For the Girls 4x800 team, Makayla Long, Camdyn Poole, Taylor Cochran and Alessandra Olivares placed 7th with a time of 11:09.32, which is also a new school record.
BOYS
Continuing the state record-breaking and podium finishes, the boy's team had several players that not only made it to the podium but produced incredible run times.
Buck Ledford, who was All-State in four events, also made it to the podium. He was state runner-up in the 3200 with a time of 9:32.6. He was 3rd in the 1600 with a time of 4:25.2, which is a new school record. Ledford placed 7th in the 800 with a time of 2:01.5, and he also set the new school record in his prelim with a time of 1:58.51.
Chase Stephens finished 10th in the 800 with a time of 2:01.05. He ended the season as the top freshman 800 runners in AA and the 5th fastest freshman 800m runner in Georgia for all classifications.
Pepper Davis finished as an all-state runner in the 3200m with an 8th place finish. He also ends the season as the top freshman in the 3200m in AA and the 15th fastest freshman at the distance meter in Georgia for all classifications.
For the boys 4x800 team of Troy Loggins, Nic Cotton, Buck Ledford and Chase Stephens, the team finished as all-state runners with a 3rd place finish in a new school record of 8:27.56.
Overall the girl's team finished at 14th in the state and the boys finished as 8th.
Although the season is officially over for the team, they are already hard at work to return to state next year. The team will have all top runners returning next season.