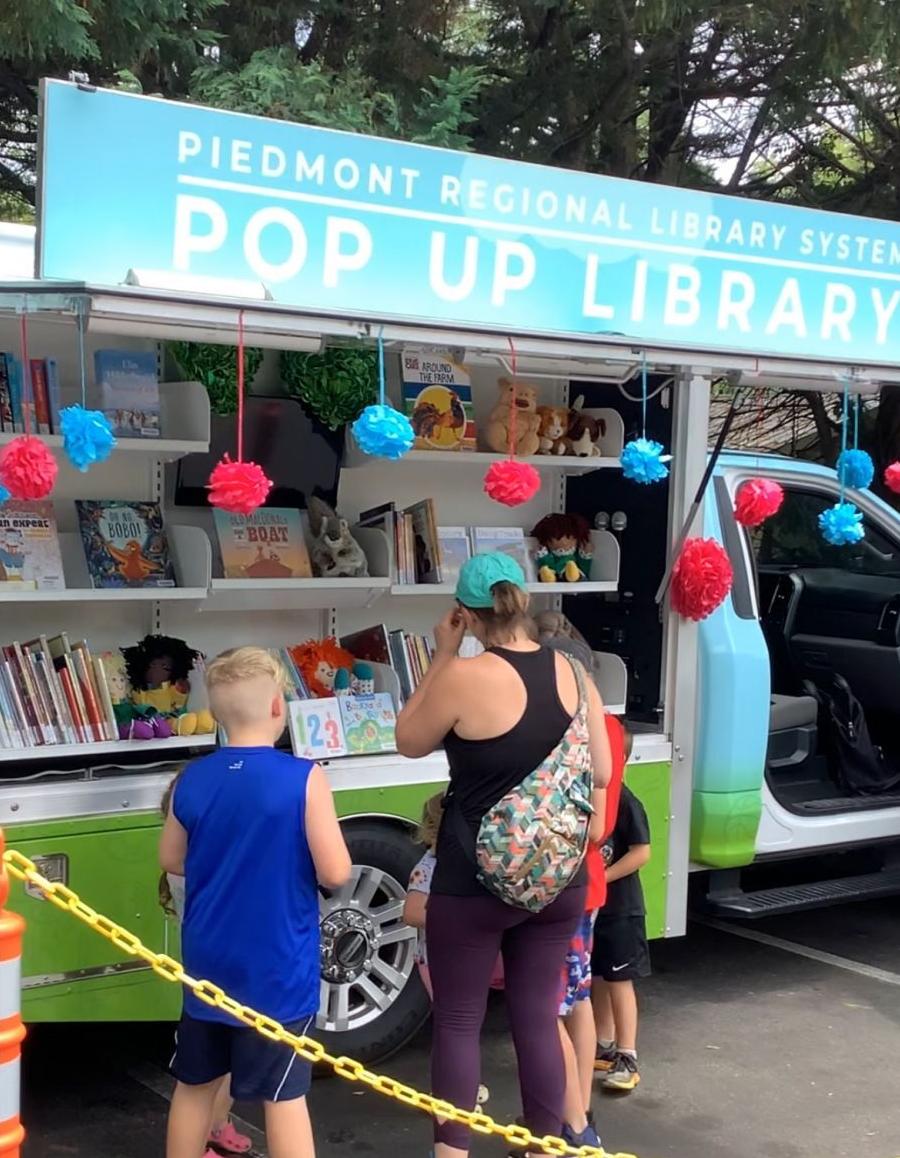 In recognition of International Refugee Day, the latest inside storywalk at the Commerce Public Library is "Lubna and Pebble," by Wendy Meddour and Daniel Egneus, a beautifully illustrated story about empathy and healing.
"Take home a 'Kindness Pebble' Take and Make to decorate and give to someone to show you care," library manager Angel Abounader states.
Take and Make crafts for this week will be paper plate snakes for the younger children and blackout poetry and ransom notes for young adult patrons.
Be sure to pick up a craft while supplies last," Abounader says.
PETTING ZOO
On Tuesday, June 15, the Foxfire Petting Zoo will be outside for drop-ins from 11 a.m. to 1 p.m. There will be goats, rabbits, chickens, a bee observation hive and even worms. There will be a rain date, if needed, on Thursday, June 17.
There will also be a special visit the same day from 11 a.m. to 12 p.m. with the Commerce Police and Fire Departments, along with Jackson County paramedics. Vehicles will be on display for children to see.
YOUNG ADULT PROGRAM
Also happening on Thursday, June 17 from 1 to 2 p.m. is a Young Adult Bee Creative program with Ms. Natalie. She will show teens ages 11-18 how to sew and make their very own felt toy mouse, a great gift for a cat or just a good way to practice sewing felt animals.
Teen Smash will be held at its regular time from 4 to 5:30 p.m. that day.
KOREAN CULTURE
The library's next Korean Culture program will be Tuesday at 5 p.m.. The topic this month is electronic vehicles and car batteries.
WORLD BOOK ENCYCLOPEDIA
World Book Encyclopedia is now available online to all Piedmont Regional Cardholders.
"It is an excellent source for older students," advises Abounader; "but its resources for our youngest readers this summer will be helpful even for those with online fatigue. The Welcome to Reading section has stories that can be read online, printed as a folded book, or listened to as an audio book while following along. Of course, all these online books count for summer reading, and there are numerous tutorials explaining how to use this free resource."
NEW BOOKS
New adult fiction now available include: Eric Von Lustbader's "The Kobalt Dossier," Elin Hilderbrand's "Golden Girl," Stuart Woods'" Jackpot" and J.A. Jance's "Unfinished Business."
One new nonfiction book is "The Ride of Her Life: The True Story of a Woman, Her Horse, and Their Last-Chance Journey Across America" by Elizabeth Letts.
"Life and After: A Doctor Explores What Near Death Experiences Reveal About Life and Beyond" by Bruce Greyson.
PROGRAMS
Programs coming up includes:
•Tuesday, Special Visit from Public Safety for Kids 11 a.m. -12 p.m.
•Tuesday, Foxfire Petting Zoom 11 a.m.-1 Drop-In and stay as long as you like
•Tuesday, Korean Culture Program 5 p.m.
•Wednesday, Kidsercise 10:30 a.m.
•Thursday, Young Adult, Bee Creative (sewing craft) 1 p.m.-2 p.m.
•Thursday, Teen 'Smash' Bros 4 p.m. - 5: 30 p.m
•Friday, Baby & Me 10:30 a.m.